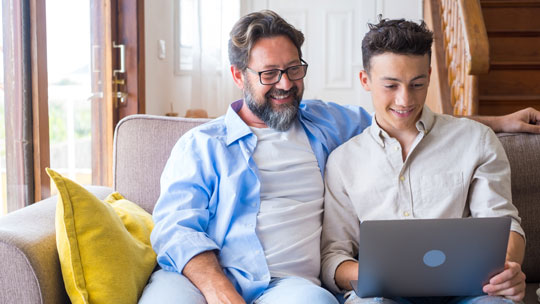 Student search has undergone rapid transformation in recent years. For decades it was a one-way conversation completely controlled by colleges and universities. Students inquired, campuses responded; students applied, campuses responded; and so on. That call-response interaction repeated itself throughout the funnel. With the arrival of digital communications, campuses added more channels to their communication flows, but even this omnichannel approach was still very one-way in those various channels.
That approach will not cut it with today's prospective students. They have grown up in an interactive environment where communication is a two-way street. What they expect is engagement, and not just with you, but with current students, other prospective students, and others who may influence and inform their enrollment decision.
Likewise, parents also expect engagement with the institutions their students are considering. This engagement has to go beyond the one-way communications of emails and mail to offer opportunities for them to engage with your institution and feel like they are a partner in the enrollment journey with your institution and their students.
The impact of real engagement on student search campaigns
This evolution in how students and parents want to interact with your institution is why we integrated engagement into RNL Student Search and Engagement. This transformation in how we approach student search has produced incredible boosts to search campaigns for our campus partners. Take a look at these results comparing our engagement-focused approach to search to campaigns that do not include student and parent engagement.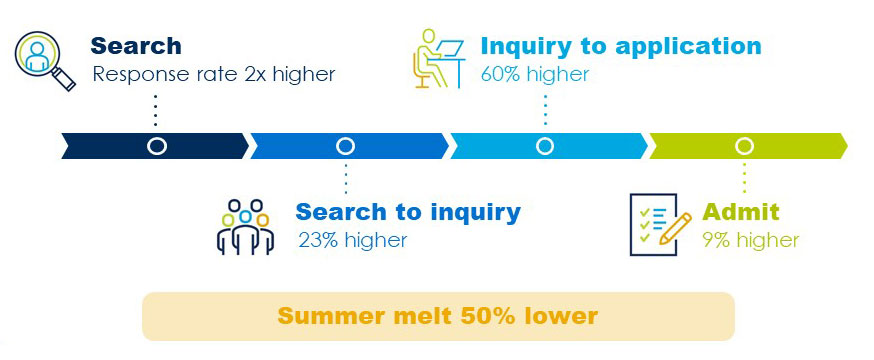 Search response was two times greater when campuses had student engagement and parent engagement incorporated into their search campaigns.
Search to inquiry was nearly 25 percent higher.
Inquiry to application had a tremendous increase of 60 percent.
Admit rates went up by nearly 10 percent.
Finally, summer melt was cut in half—which is a major boost to net tuition revenue and ROI.
What does engagement really mean?
Engagement is a word that gets thrown around a lot in enrollment management. Often it refers to omnichannel outreach—communicating with your audience across the channels they use every day. Omnichannel communication is very important, but that is not engagement.
Engagement is a two-way conversation that continuously evolves with each interaction. It's about listening to your audience, responding, and adapting so that students and parents get the messages, information, and experiences they want when they want them.
Here's how that works:
Engaging students continuously through digital communities
Think about how prospective students engage with individuals and organizations. They post, comment, share, and interact. They consume "official" information but also engage with their friends, peers, influencers, and users.
Those same behaviors and expectations carry over to college search. That's why RNL Student Search and Engagement creates a digital community for prospective and current students. Once students become part of the community, they start interacting not just with your institution, but with other current and prospective students. They develop connections and friendships through text messages, group chats, virtual events, and other experiences that increase their affinity for your campus. All of that increases interest, strengthens their feeling that your institution is a good fit, and boosts their chances of applying (as the statistics I shared earlier show).
Engaging parents with timely, tailored content that drives enrollment
Students have told us that parents are by far their top enrollment influencers.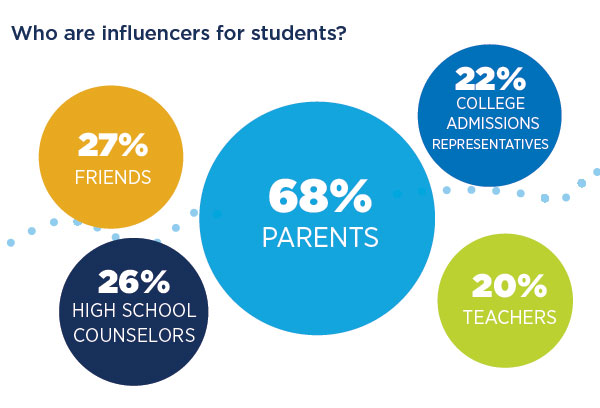 What's more, parents are extremely eager to engage with you—85 percent want to hear from you at least weekly (see our report on parent engagement for more details). While many colleges and universities have parent communication plans, many of those plans are again one-way communications, not true engagement campaigns. A comprehensive parent engagement strategy makes parents feel included, and the more connected they are to the institution their student is considering, the more likely they will promote that institution. Increasing engagement with parents increases their understanding of the enrollment process (deadlines, requirements, events, etc.), which enables and encourages them to help their student move through the funnel.
How can true engagement boost your student search campaigns? Let's find out.
It's clear that student search has evolved and will continue to evolve in the coming years. It's critical for you to stay ahead of those changes, meet the expectations of students, and make the college search process an engagement experience for students and parents—not a series of one-way communications.
We have helped colleges and universities across the country do that, and we can help yours, too. Reach out and we will set up a time to talk about your search campaigns and how you can increase your results with greater engagement of students and parents.
Drive enrollment outcomes with the smartest full-funnel solution for higher ed
Ask for a free walkthrough of RNL Student Search and Engagement and see how you can increase volume at the top of the funnel, increase conversion and velocity through the funnel, and achieve your enrollment goals.