Trucking news and briefs for Wednesday, Jan. 25, 2023:
Three states issue hours waivers over propane shortages
Governors in Nevada, South Dakota and Wyoming each recently issued emergency declarations related to propane shortages, waiving hours of service regulations for drivers hauling propane.
Nevada Gov. Joe Lombardo issued a proclamation Jan. 23 waiving Part 395.3 (maximum driving time) of the hours of service regulations through Feb. 1 due to Nevada continuing "to suffer from a propane shortage which impacts the ability for people and businesses to heat homes and power essential government and business equipment." The proclamation added that "extreme weather conditions are anticipated to continue, and Nevada's propane shortage remains critically low."
South Dakota Gov. Kristi Noem's declaration waived Part 390-399 of the federal regulations through Feb. 18. "Drivers of propane transport vehicles are required to deliver propane necessary to maintain the supply of this product in order to enable the people of South Dakota to continue normal heating functions," the declaration stated.
Finally, Wyoming Gov. Mark Gordon issued a declaration Jan. 20, effective through Feb. 19, that waives Part 395.3 of the regs. Gordon said Wyoming citizens "are faced with low supplies of propane with which to heat their homes and businesses."
Iowa overweight waiver extended
Iowa Gov. Kim Reynolds on Jan. 20 signed a proclamation that extends a waiver allowing truck drivers hauling grain, fertilizer and manure to haul up to 90,000 pounds.
The overweight waiver extension is effective through Feb. 19 and allows vehicles transporting corn, soybeans, hay, straw, silage, stover, fertilizer (dry, liquid, and gas), and manure (dry and liquid) to be overweight (not exceeding 90,000 pounds gross weight) without a permit for the duration of the proclamation.
General Truck Sales earns Certified EV Dealer designation from Volvo, Mack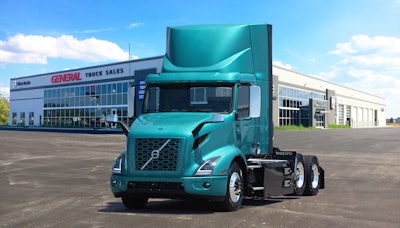 Mack Trucks and Volvo Trucks dealer General Truck Sales recently completed the stringent requirements to become a Mack Certified Electric Vehicle (EV) Dealer at its Toledo, Ohio location and a Volvo Certified EV Dealer at its Toledo and Pendleton, Indiana, locations.
The designation means General Truck Sales will now be able to service and support the Mack LR Electric refuse vehicle and the Volvo VNR Electric.
General Truck Sales is Mack's first Ohio location to be a certified EV Dealer and Volvo's second, while the Pendleton, Indiana, location is Volvo's first certified EV dealer in Indiana.
General Truck Sales is a four-time Volvo Trucks Dealer of the Year award recipient and is continuing that tradition of excellence by ensuring its sales teams are fully trained to consult with customers that are considering investing in any of the Volvo VNR Electric model and Mack LR Electric configurations.
Additionally, the dealer's service team has two technicians at each location that have been fully trained and equipped to safely perform battery-electric truck maintenance and repairs for trucks in operation. General Truck Sales also has a 50kW electric vehicle charger at each location with multiple outlets to provide flexibility in charging locations.  
Midwest Carriers increases driver pay
Truck drivers at Midwest Carriers will see bigger paychecks in 2023 with a 5% pay increase.
The average over-the-road driver at Midwest will earn $95,539 this year, with the top 50% of drivers to earn an average of $101,388. The increase took effect Jan. 1.
The local fleet drivers will see an hourly wage increase of 5% as well, bringing the starting wage as high as $26 per hour. Local fleet drivers are also paid overtime wages for hours worked over 40 in the work week, bringing the overtime wage as high as $39 per hour.  
Midwest Carriers also increased the cents per mile paid from 65 cents to 70 cents for miles driven over 2,400 in a work week. That is in addition to the weekly flat rate minimum wage that Midwest drivers earn each week. 
"Truck drivers deserve to be adequately compensated and valued for their hard work," said Eric Van Handel, President at Midwest. "At Midwest Carriers, we believe in recognizing our drivers with a competitive salary and full benefits. That's a large reason why our turnover rate is much lower than our competitors – we've got a driver-focused culture and our compensation reflects that."
The pay increase pairs with an 18% decrease in healthcare premiums for drivers in the new year, costing just $49 per week for employee-only coverage. The coverage is offered alongside other benefits provided to Midwest Carriers employees, including dental and vision insurance, company paid short-term disability and life insurance, matching 401(k), paid vacation and regularly scheduled home time.