At the height of the pandemic, Casework's founder Casey Keasler and Kate's founder Katelyn Williams were the only two coming into the interior design firm's studio in Portland, Oregon.  Kate's Ice Cream kitchen was across the courtyard and she needed a desk and quiet place to work. They quickly developed a socially distanced friendship.
When Williams started seeking permanent retail space for her growing plant-based, gluten-free ice cream business, Keasler tagged along, offering design insights and observations. Once a permanent home—a storefront on N. Mississippi Avenue— was selected, Casework was called on to design an inviting, pastel-colored oasis. Originally home to Ruby Jewel Ice Cream, the shop already included a full kitchen and ample room to realize their vision.
Initial designs started in Summer 2021. Washed in soft, candy-colored hues, guests enter the ice cream shop to a bright ombre counter. Tiled with layers of peachy pinks and sorbet-inspired selections from Fireclay Tile, the curved bar is a contemporary spin on traditional ice cream parlor dipping cabinets. The custom counter was designed by Casework and installed by Williams and her mother, who flew from Louisiana to Portland to help with the project.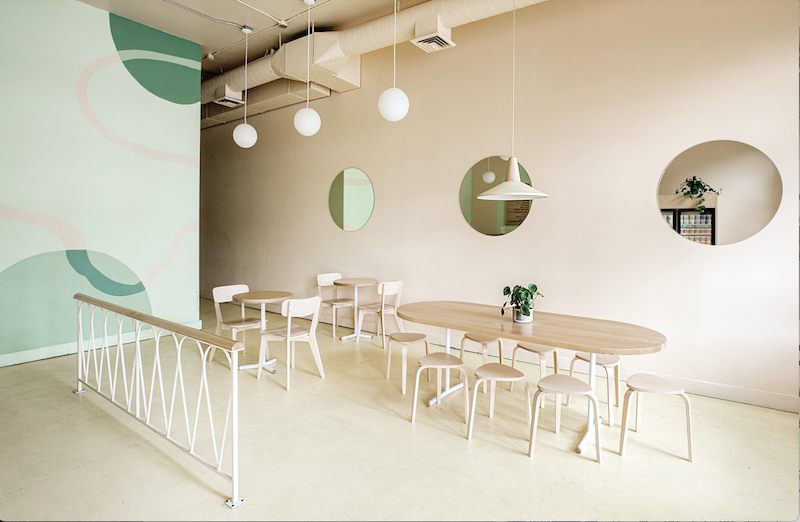 The sweets shop also includes work from local designers and artists to complement the local ingredients in Kate's signature concoctions. Along the back wall, a pastel mural by Lynzee Lynx, a local artist and friend of Williams', brings vibrancy and dimension to the minimalist space. White oak furniture, custom designed by Casework and Jamison Sellers of local furniture brand Bolster Furniture, also offers an inviting place for dining and congregating.
"Working with Casework was rainbows and better than anything I could have ever imagined," said Williams. "Casey and her team took my vision of a creative, joyful, and modern space filled with pastels, and translated it into a minimalist pastel wonderland. The team is so kind and patient, with an eye for a true aesthetic dream. I am forever grateful for their idea to paint our floors bright gold as it lights up the whole room and is just like stepping into a ray of sunshine."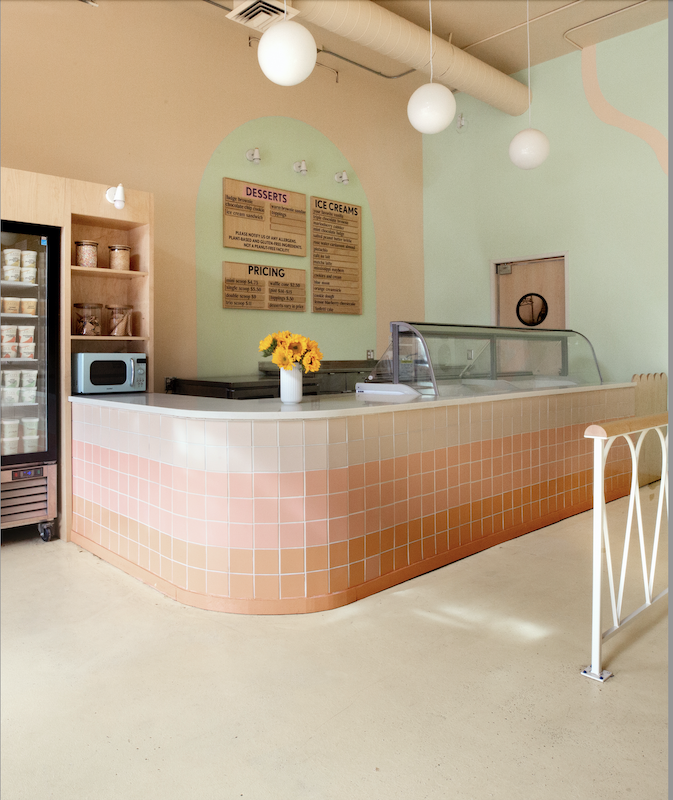 What started as a socially distanced friendship-turned-design partnership resulted in a contemporary watering hole for Portland's vegan dessert lovers. Kate's Ice Cream demonstrates Casework's relationships not only with local business owners, but also Portland designers and artists.