This past weekend, Texas Southern University's (TSU) cheer squad became the first from a historically Black college or university (HBCU) to win a national title at the National Cheerleaders Association (NCA) College National Championship, Click2Houston reported.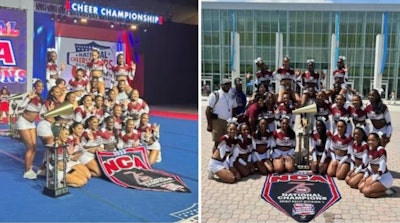 "When I first came to TSU, I told the team we're going to Nationals," said head coach Shontrese Comeaux. "When we earned our gold bid at NCA Camp, I told the team, 'It's time to go to work'. I knew this was the year and the team to get the job done. I'm so proud of them and where we're going to take the cheer program next."
Competing in the Cheer Spirit Rally Division I category, the TSU Tigers scored a 96.1 performance score, 96.1 raw score, and a 95.5875 event score in the final round, according to TSU.
"Words can't express how proud I am for our cheer team's national championship," said Dr. Kevin Granger, TSU vice president of intercollegiate athletics. "They've worked very hard for this moment over the past several months. To see the long hours they've dedicated come to fruition in the form of a national championship is amazing as I want to commend the coaching staff and team members for their efforts. This team has made history at Texas Southern and everyone apart of TSU nation is proud of their accomplishments."